Hey there everyone,
I wanted to do something different today and talk about a movie that really got to me and that made me feel all the feels.
As some of you who follow me on social media might know, I am a huge fan of animated movies and series… especially Japanese ones. I've watched a number of anime series and a few Studio Ghibli movies, so when I heard about a recent release called 'Your Name', and that it involved body-switching and time travel, I knew I had to give it a watch… and let me tell you, I'm so glad I did.
So please, enjoy this incredible attempt of a post of me explaining why this movie is so great, and why you, my dear reader, must watch it:
Trailer & Blurb: Two teenagers share a profound, magical connection upon discovering they are swapping bodies. But things become even more complicated when the boy and girl decide to meet in person. You can watch the trailer here (it's with english subtitles) !!

Thoughts:
So, there is truly little in this movie that I did not like. Now, this made sound very biased, but this movie has absolutely everything. It is perfect in every single way, and here's why.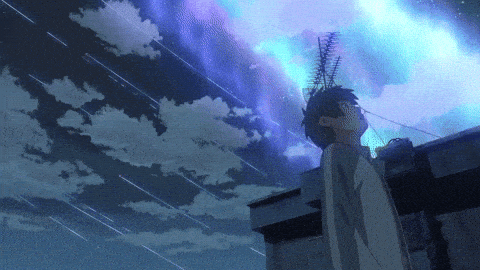 The artwork is absolutely gorgeous, I was so taken aback with all the lush trees and countryside of the small town of Itomori, and the beautiful simplicity of the Tokyo streets. I mean, how can you not love this GIF of the comet?!

The characters too, are incredibly fleshed out and lovable; even the side characters are interesting and give the impression that they can stand on their own. The budding relationship between the main characters is also very real and heart-warming, I just loved seeing them get to know each other and try to make the best of their unique situation that bound them together. The dialogue and interactions were funny, cute, and so relatable; and when things got intense, everything got so raw and real, and it just got to me so quickly. I also liked that they came from similar backgrounds, with some slight differences, mainly being that one lived in the city and one lived in the countryside, and it was nice to see how they effected their daily lives, especially when they switched bodies, and it was fun to watch them adapt, and grow. Their development was amazing and inspiring and they helped each other so much.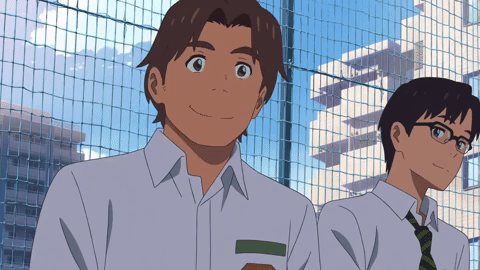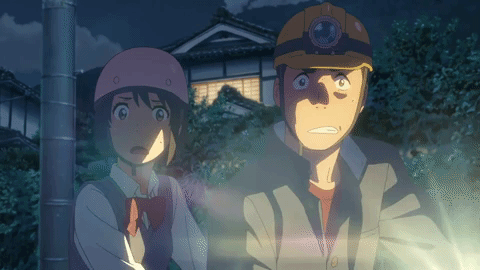 (The friends are amazing and I want friends like them <3)
The twists and turns of this story also kept me on the edge of my seat, and with tears running down my face at multiple moments. A truly awesome story that brought two unlikely people together and affected so much more than themselves; there was a good balance of humour, mystery, and action; the love story is to-die-for and so unique; the music is great; and the whole story had me intrigued from beginning to end. I was practically jumping up and down my seat towards the end, I loved it that much.
Another thing I loved a lot was also the peek into Japanese culture, and the differences between countryside and city life. I loved how they have a number of these really interesting traditions, with their special clothing, rituals and festivals in the little tow of Itomori. I've always been interested in Japanese culture, so this film made me want to get onto the next plane to Japan! All in all, it's absolutely great, and you should watch it and enjoy it and fall head over heels for these crazy kids and their crazy situation.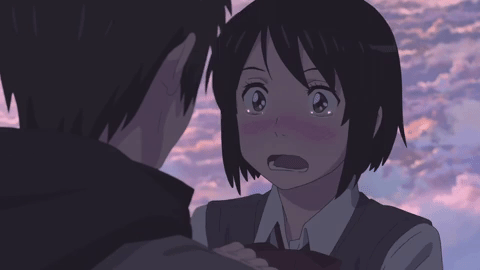 (This scene had me bawling my eyes out, guys… if you watch, you'll know why)

Rating:
This film has been getting a lot of good reviews worldwide, and it's been named one of the highest-grossing Japanese films worldwide!! If that's not another good reason to check it out, I don't know what it is! Also, there's a book (in English, a novelization of the film) about it too (!!!), which you can get on book depo with my affiliate link here.
So, that's it from me today, guys! If you've watched this before, and love anime like me, and thoughts on the film/more anime recs would be great!
And if you haven't watched it yet, you have the dubbed version (speaking in English) here, and the subbed (Japanese with English subtitles) here!
---
---
HAVE AN INTEREST, IDEA, OR AN OPINION?
Do you have an interest you'd like to tell others about? Or an opinion you'd like to share with the world? From politics to culture and sports, message us if you would like your articles published!